Early education teachers or pre-kindergarten teachers lay the foundation of a child's academic, emotional and mental growth.  They have the onus and the honour of creating a stimulating environment to help the children discover their interests and talents.
Who are the Preschool Teachers?
Certified and trained preschool teachers do the groundwork for the child's future education. There has been research proving that without early education, a child's academic progress can suffer. Children are required to develop necessary life skills before they begin their schooling years. And the preschool teachers help them to do so
Why you should become a Preschool teacher?
As a preschool teacher you do not just get to handle a class, you nurture the young ones and make them future ready. You instil independence in the children and watch them experience their 'firsts' in life.
Preschool teachers are in great demand as their importance in setting a tone for the child's development continues to rise.
You get to mould children by supporting their personal, academic and social development. You get to be the reason that the children explore their interests and figure out their talents.
Every day is special for preschool teachers as they get to entertain and engage the children while learning from them as well!
You get to be creative and innovative by designing personalised curriculums to boost cognitive abilities and motor skills among children.
You will receive unconditional love and will be adored by many. You develop more patience and understanding thus helping your personal growth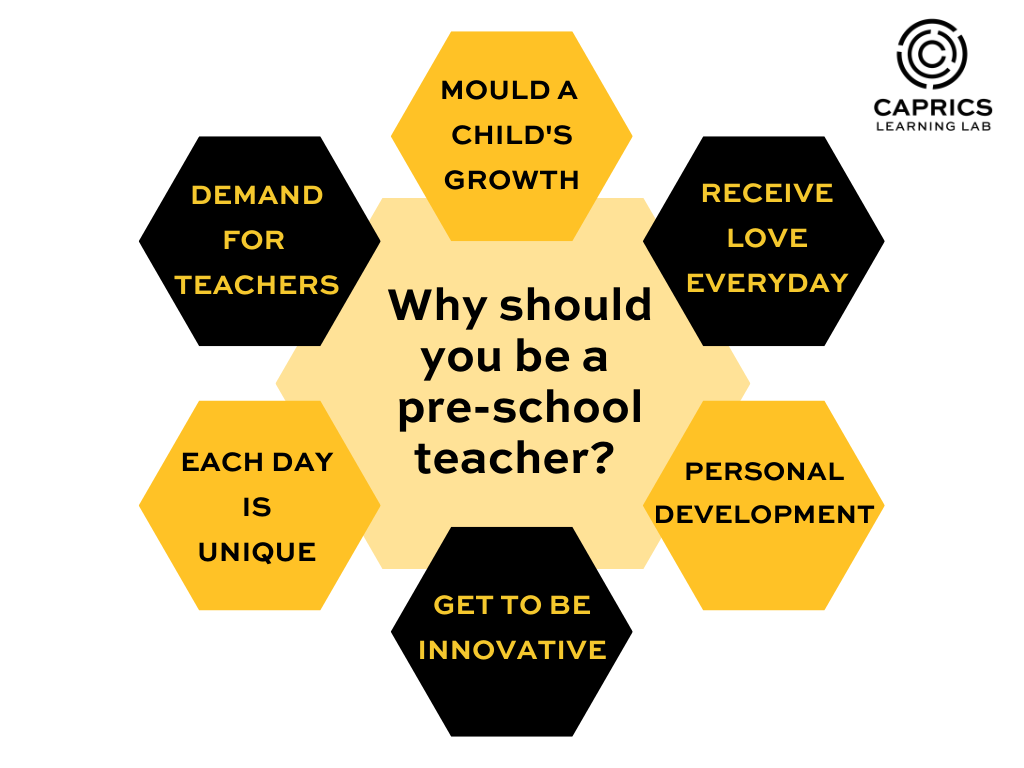 What makes for a good preschool teacher?
Preschool teachers influence children at their impressionable age therefore a pre-school teaching profession can be a rewarding experience. Though tough, it promises satisfaction and a sense of achievement. There are advanced courses for preschool teachers and preschool teacher training programs at Caprics Learning Lab. Caprics teacher training curriculum is based on the latest developments in child psychology and teaching methodologies. Get in touch with us to train the future of our society.